home ¦ what's on ¦ drinks ¦ classic album festival ¦ bands ¦ links ¦ about us ¦ private hire ¦ accommodation ¦ music store ¦ faq
The Function Room
We have a small function room, max capacity 70. With it's own fully stocked bar and dance floor this could be the ideal place for a private party, whether it's a birthday, anniversary or small wedding reception.
Please call us for a quote.
License extensions by prior arrangement, an additional charge may apply.
Catering can also be arranged at extra cost, or bring your own food!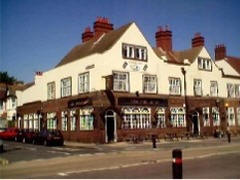 Function Room photographs coming soon…
Contact Us
t: 01273 383840
e: [email protected]
p: 153 Portland Road,
Hove, BN3 5QJ
Map Portland Hotel & Rock Bar on Multimap
Getting Here
By Bus:
Brighton & Hove Buses
Regular service: 2,46,49
Occasional services: 7,25
Night Bus: N25, links with N7
Coming from Brighton it's the 3rd stop on Portland Rd.
By Train:
We are about 5 minutes walk to Aldrington Halt (occasional service), whilst 10-15 minutes walk from both Portslade and Hove Stations
By Car:
There is ample parking around the Portland, but unless you're on the soft drinks we'd suggest leaving the car at home! Please note that restrictions now apply at certain times of the day.
Opening Hours
Mon – Wed: 11am-11pm
Thursday: 11am-11.30pm
Fri – Sat: 11am-1am
Sunday: 12noon-10.30pm
Happy Hours
Monday-Saturday: 5-7pm
Sundays: 12.30-2pm
Beer of the week £2.00
Most draught beers £2.30
Discounts on house spirits and wine