home ¦ what's on ¦ drinks ¦ classic album festival ¦ bands ¦ links ¦ about us ¦ private hire ¦ accommodation ¦ music store ¦ faq
About The Rock Bar
Bands at the Rock Bar
A wide range of bands play at the Rock Bar, from 'young rock' generally on a Wednesday to a number of established bands on weekends, including local, national, and international acts.
Regular bands include Dirty Shoes, Lick, Under The Gun and Leap of Faith.
Want to play at the Rock Bar?
First things first – DON'T email the webmaster! He's a techie but nothing to do with music!
You need (whether a small band or a big agency) to send a demo of the band together with a biography and preferably some photographs to the pub – either snail mail or deliver the information, all marked for the attention of Mary.
If you are local you might also like to turn up at our jam sessions (Thursday for electric, Sundays for acoustic) and see how you go down with the crowd!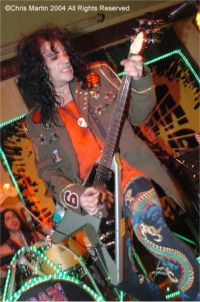 Contact Us
t: 01273 383840
e: [email protected]
p: 153 Portland Road,
Hove, BN3 5QJ
Map Portland Hotel & Rock Bar on Multimap
Getting Here
By Bus:
Brighton & Hove Buses
Regular service: 2,46,49
Occasional services: 7,25
Night Bus: N25, links with N7
Coming from Brighton it's the 3rd stop on Portland Rd.
By Train:
We are about 5 minutes walk to Aldrington Halt (occasional service), whilst 10-15 minutes walk from both Portslade and Hove Stations
By Car:
There is ample parking around the Portland, but unless you're on the soft drinks we'd suggest leaving the car at home! Please note that restrictions now apply at certain times of the day.
Opening Hours
Mon – Wed: 11am-11pm
Thursday: 11am-11.30pm
Fri – Sat: 11am-1am
Sunday: 12noon-10.30pm
Happy Hours
Monday-Saturday: 5-7pm
Sundays: 12.30-2pm
Beer of the week £2.00
Most draught beers £2.30
Discounts on house spirits and wine